Understanding IRS Filing PINs: A Comprehensive Guide to Secure Tax Filing
By Jason Cohen, CFP®
April 2023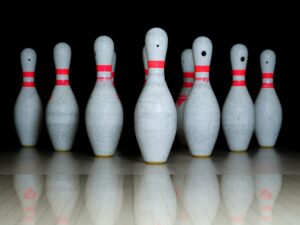 With the rise in identity theft and tax fraud incidents, it's more important than ever to protect your personal information when filing tax returns. The Internal Revenue Service (IRS) has introduced a valuable security tool called the IRS Filing PIN to help taxpayers safeguard their tax information. In this article, we will delve into the details of IRS Filing PINs, their benefits, and how to obtain and use one for a more secure tax filing experience.
What is an IRS Filing PIN?
An IRS Filing PIN, or Identity Protection Personal Identification Number (IP PIN), is a unique six-digit number assigned to eligible taxpayers by the IRS. This number serves as an additional layer of security when filing tax returns, ensuring that only the authorized taxpayer can access and submit their tax information. The primary purpose of the IRS Filing PIN is to combat tax-related identity theft and prevent unauthorized individuals from filing fraudulent tax returns using stolen personal information.
Who is Eligible for an IRS Filing PIN?
The IRS has expanded the availability of IRS Filing PINs to all taxpayers who can verify their identities. Initially, the IRS Filing PIN was only offered to identity theft victims or taxpayers living in specific locations. However, due to the growing threat of tax-related identity theft, the IRS now allows any taxpayer to request an IRS Filing PIN for added security.
How to Obtain an IRS Filing PIN
To acquire an IRS Filing PIN, follow these steps:
Make sure to store your IRS Filing PIN securely and keep it confidential. You will need this number each year when filing your tax return.
How to Use Your IRS Filing PIN
When filing your tax return, enter your six-digit IRS Filing PIN in the designated field on your tax return form. The IRS will use this PIN to verify your identity when processing your tax return. If you e-file your tax return, most tax software will prompt you to input your PIN during the filing process.
Note that the IRS Filing PIN is not a substitute for your Electronic Filing PIN or your signature. You will still need to sign your tax return or use a self-selected personal identification number (PIN) for electronic signatures.
Renewing and Replacing Your IRS Filing PIN
The IRS Filing PIN is valid for one tax year. You must request a new PIN each year by visiting the IRS website and completing the identity verification process. If you lose or forget your PIN, you can obtain a replacement by following the same procedure. Remember that you cannot reuse an old PIN.
The Importance of IRS Filing PINs in Tax Security
The IRS Filing PIN plays a crucial role in securing taxpayers' sensitive information and combating tax-related identity theft. By using an IRS Filing PIN, taxpayers can have peace of mind knowing that their tax returns are less susceptible to fraudulent activities. It is highly recommended that taxpayers take advantage of this additional layer of security to protect their personal information and tax data.
The IRS Filing PIN is an invaluable security measure designed to help taxpayers safeguard their tax information from identity theft and fraud. By obtaining and using an IRS Filing PIN, you can take a proactive step in protecting your tax data and ensuring a secure tax filing experience. It is essential to stay vigilant and make use of available tools like the IRS Filing PIN to maintain the safety and integrity of your financial and personal information. By staying informed and proactive, you can minimize the risk of tax-related fraud and identity theft.
In 2019, the IRS says it stopped 443,000 confirmed fraudulent returns (which would have resulted in $1.9 billion in refunds) from being processed.
Do you still have questions or need further guidance? We are here to help, reach out to us at Contact@Wadvocate.com or 440-505-5578 to schedule an introductory consultation.
About Jason
Jason Cohen is Chief Operating Officer and wealth advisor at Wealth Advocate Group, LLC, an independent, fee-based wealth management company. Jason has 15 years of experience and spends his days managing firm operations, including portfolio trading and analysis, training of new advisors, financial plan production, and client relationship management. Jason specializes in serving real estate professionals and other independent contractor business owners, helping them navigate their unique financial challenges, such as unpredictable cash flow and tax issues, so they can pursue financial independence and freedom from worry. Jason has a bachelor's degree in public management from Indiana University and is a CERTIFIED FINANCIAL PLANNER® professional and believes that everyone should have access to comprehensive financial planning. He is passionate about doing his best for his clients and setting others up for success. Outside of the office, you can find Jason staying active in a variety of sports and spending time with friends and family. Learn more about Jason by connecting with him on LinkedIn.
Sources:
https://www.irs.gov/pub/irs-pdf/p4524.pdf
https://www.experian.com/blogs/ask-experian/how-common-is-tax-identity-theft/
Content in this material is for general information only and not intended to provide specific advice or recommendations for any individual. All performance referenced is historical and is no guarantee of future results. All indices are unmanaged and may not be invested into directly.
There is no guarantee that a diversified portfolio will enhance overall returns or outperform a non-diversified portfolio. Diversification and asset allocation do not protect against market risk.
Wealth Advocate Group and LPL Financial do not offer tax or legal advice or services.
The information being provided is strictly as a courtesy. When you link to any of the web sites linked herein, we make no representation as to the completeness or accuracy of information provided at these web sites.